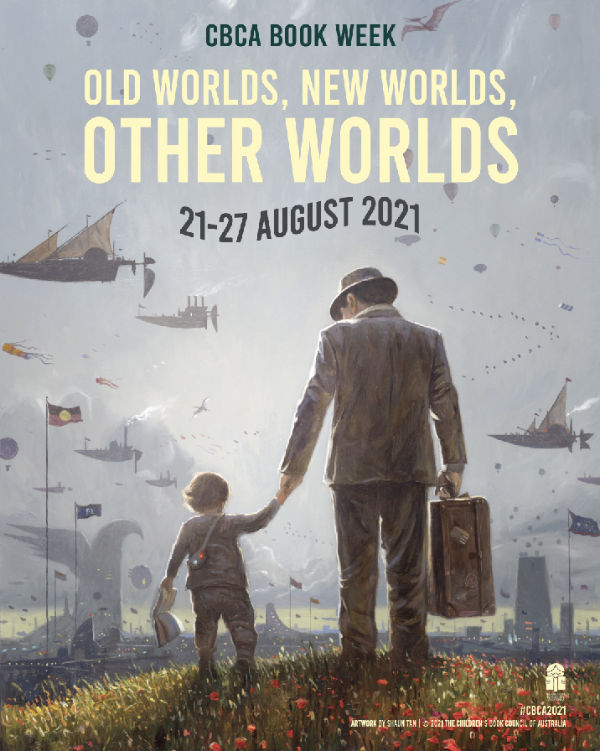 CBCA 2021 Book of the Year Announcement Ceremony
Watch children perform, meet local authors and illustrators, while perusing the display of Shortlisted books.
Announcement at midday.
When: Friday 20 August 11.30am-12.30pm
Where: Theatre, National Library
Theme: Old Worlds, New Worlds, Other Worlds
Book week dates: Term 3 August 21-27 2021
Theme: Curious Creatures, Wild Minds
Dates: Term 4 October 17-23 2020
Note - For 2021, the CBCA expect the annual CBCA Book of the Year Awards and CBCA Book Week to return to the regular schedule of the Award announcement on the third Friday in August, with CBCA Book Week commencing the following day.
In 2021 CBCA Book Week will run from 21 to 27 August.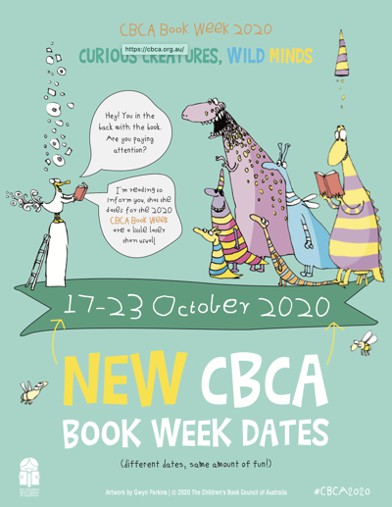 Julie Long
Kirrin Sampson
Theme: Reading is My Secret Power

Dates: 17 - 23 August 2019
Each year across Australia, the CBCA brings children and books together celebrating CBCA Book Week. During this time schools, libraries, booksellers, authors, illustrators and children celebrate Australian children's literature and you will often see children's book character parades and talented librarians creating amazing displays.
The CBCA Book of the Year Awards are announced each year on the third Friday in August. CBCA Book Week commences the following day.
Please note that the CBCA Book Week artwork is subject to copyright.
Social media
All CBCA Book Week announcements will be posted on the CBCA Facebook page and Twitter account @TheCBCA.
The CBCA will promote CBCA Book Week activities taking place across Australia. Please use the hashtag #CBCA2019 when sharing your events, displays and activities via social media and remember to add those fabulous photos highlighting the special celebrations you attend or organise.
Ideas for your communication channels
Promote #CBCA2019 by using the hashtag along with the Twitter handle of your library or local CBCA Branch
Change your Facebook or Twitter avatar to the one available in the resources section below
Include the email signature (available in the resources section below) in your communications
The CBCA will publish a 'wrap-up' of the week on the website, so if you have an event, please share with us:
Some information and photos by email -admin@cbca.org.au-

A link to your Facebook page or website

Any articles or coverage from your local media
Free Digital resources
Welcome to a brand new year of discovering the very best Australian children's literature. More amazing characters, more stunning illustrations, and (hopefully) more time to settle in with a beautiful book with the children in our lives.
Our judges are well into their reading and notetaking in preparation for the rollout of our Notables, Short List and, in August, the big announcement of our 2018 CBCA Book of the Year Awards!
Here are the key dates:
ANNOUNCEMENTS FOR 2018 AWARDS
Notables Announcement - 27th February at 7.00pm AEDT
Short List Announcement - 27th March at 12 noon AEDT
Book of the Year Awards Announcement - 17th August at 12 noon AEST
CBCA Book Week 18th-24th August 2018
Theme: Find Your Treasure with artwork by 2017 CBCA Book of the Year Early Childhood Winner Anna Walker!
---
CBCA BRANCH KEY EVENTS 2018
CBCA VIC State Conference 2018 - REIMAGINE! New ways with literature.
19th May 2018 at Deakin University - Geelong - Waterfront Campus.
---
Book Week is the longest running children's festival in Australia, beginning in 1945.
Theme: Escape to Everywhere
Dates: 18-26 August 2017
ACT Branch Book Week Events
2017 Book Week Resources
CBCA Book Week Handbook. It explores CBCA Book Week activities and provides detailed background on Short List titles and annotations of the Notables List. Get yours from the CBCA eStore.
Book Week for Beginners. A resource to support teacher librarians, it has links to many other useful websites.
The Book Chook. Suggestions for activities based on the theme.
Mrs Mac's Library. For each short listed books there are links to author/illustrator websites, teaching notes and book trailers. Plus some teaching ideas.
Preform Educational Musicals – Book Week 2017 – Super Duper
---
Book Week 2016 - Australia! Story Country
ACT Branch Book Week Events
Please remember to enter the Make Your Own Story Book Competition – Closes 26 August 2016.
---
Book Week 2015 - Books Light Up Our World
Book Week is the longest running children's festival in Australia, beginning in 1945.
Book Week 2015 will run from August 22 – 28 with the theme Books light up our world. This year is the 70th anniversary of Book Week. There will be a children's seminar and dinner with guest authors and illustrators on August 26 2015.
The previously advertised literary dinner with Libby Hathorn will now be held on October 28 2015 in Children's Week as Libby is unfortunately no longer unavailable on September 2 2015.
We will be holding a Book Week Highlights Competition from 21 August to 6 September 2015.
A catalogue of merchandise is available for online merchandise ordering.
---